Brakes Pulling, Pulsating, or making Noise? Pedal mushy, hard to press, or Low? ABS light on? Car not stopping right?
​
Brake System
Aaron's is your one-stop shop for brake diagnostic, maintenance and repair.
Let our Service Experts assist you with whatever your brake service needs may be.
​
Lube, Oil & Filter Change
Full Service Oil and Lube is a must for your vehicle's regular maintenance.
It's not just an oil change, It's preventative maintenance.
- Oil change
- Replace oil filter
- Lubricate chassis (if applicable)
- Check filters
- Check all fluids
Tune Up - 30k 60k 90k
There are many different services and inspections that your car requires in
order to continue to run efficiently.
​
30/60/90K are just a few scheduled maintenance services.
Each service focuses on different parts of the car that needs to be maintained frequently.
​
Engine & Transmission
We will remove your tired old engine or transmission and replace it with a factory fresh, or re-manufactured engine or transmission, and renew the life of your vehicle.
​
We work on gasoline and diesel engines and transmissions.
Most of our engines and transmissions have a 3 year /100,000 mile (whichever occurs first) parts and labor warranty.
​
Diagnostics
We are a friendly, clean and efficient auto repair facility.
We understand that sometimes car repair can be stressful.
We do everything possible to make our customers feel welcome, comfortable and satisfied with their service experience.
We don't just throw a part at the problem, hoping it will fix your issue!
We find out whats wrong with your vehicle using advanced diagnostic technology, before replacing parts .
​
Check Engine Light
It is never a good idea to ignore your check engine light. Sure, it may indicate something minor, such as an emissions leak, But could also be serious.
When left unattended,
some problems can start a chain-reaction that causes damage to other components.
Help prevent unnecessary repair bills, by diagnosing
and
eliminating the cause of the check engine light as soon as possible.
To maintain full control of your vehicle, a working suspension system is necessary.
​
Working suspension enables proper steering and prevents
the car from pulling in directions you do not want to go.
No matter what type of suspension system your car has, our experts have the tools and experience to diagnose and repair your suspension and alignment problems.
​
​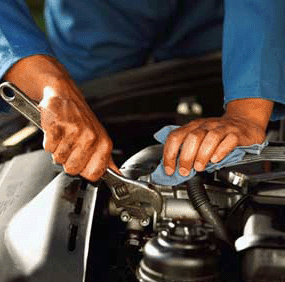 Air Conditioning
Aaron's offers a special air conditioning performance service to identify any problems.
- Service A/C system
- Inspect system for leaks
- Test compressor operation
- Check proper operations of controls, blower motor and fan